My name is Chris Matchett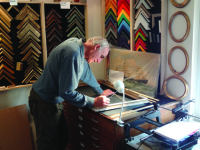 I have been brought up in the world of art since a child. My grandfather worked alongside Augustus John and I have initiated several art projects including an art materials warehouse, gallery and studios. I have been focusing on restoration for the
past 20 years.
Many people might think that restoring or cleaning their precious paintings might cost an arm and a leg. In fact much can be done to bring a dull picture back to lfe at a very reasonable cost.
I undertake several commissions from art dealers who require a very professional service but at a competitive price which allows for selling on.
My studio is equipped with a large vacuum table and all ancillary framing machinery. I use traditional materials but keep informed of current practice in conservation.
I offer an artisan bespoke framing service and can provide reproduction picture frames when required.